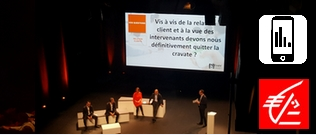 Digital hosting of BDR's Caisse d'Epargne Convention with Evals
Evals®, a micro-digital to this convention.
At the Quartz in Brest, The French Bank Caisse d'épargne

created an digital interaction with Evals

®.
Thanks to this digital interaction, more of 250 colleagues participated and ask questions to the speakers, it definitely galvanize exchange.
Before that convention, participants already used evals.fr to ask questions and subscribe to different workshop.
The practical side of it was that the access map of Quartz was available on evals.fr and every participants were able to consult it at any time.
The day was punctuated with many moments of digital interaction because participants were invited to ask questions about every speech. Some of them were selected by mediator and display on the stage where the journalist and host Stéphane CourgeonStéphane Courgeon could build on an idea.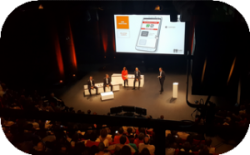 "Evals is a very simple application to use. We could transform the application into the colors of our convention (graphism, visuals, content..). We used our previous event to ask colleagues the topics they were interest in and use it later. Our guest could react in real-time and asking questions without any doubt to our host on stage. This service was very good and we will not hesitate to work with Evals once again." Laurence RENAUD, Directrice Communication, CEBPL