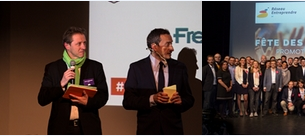 Public's trophy from « Réseau Entreprendre 92 »
Public's trophy in live.
For the 19th edition of the

business owner party

, an event that put the spotlight on the winners of the 2016 FreeWheel year group,

Reseau Entreprendre 92

choose to innovate and offer the public the possibility to vote for his favorite company.
During the deliberation, business owner of Haut-de-Seine, partner, economic actors, member of the association had the possibility to choose their favorite laureate on evals.fr.
Few minutes later, Guy Maindiaux, president of Sarawak, announced the winner which was Mobiham company.
"We call upon Evals for our Business owner party which took place at the Neuilly theatre. It's a playful and perform well tool. We were very satisfied et will renew our collaboration next year without any hesitation" Christine CECCALDI, Coordination manager, Reseau Entreprendre 92.