Evals appeared on a Télénantes show !
During the Green Week, the audience of a tv show gave their opinion on the bet of TRIA.
On the 19th of October, Evals solution answered to the CCI Pays de la Loire's invitation to the recording of a program called "52 minutes to convince" about the TRIA (Third industrial and agricultural revolution).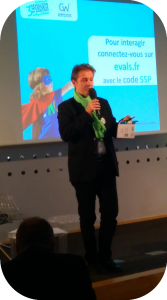 Evals solution makes audience participate to the debate.
Thanks to Evals, the audience gave their opinion in live about the different topics broached. Participants express their feeling with their smartphone during the diffusion of reports.
Then, the results help to flow into the round table about the bet of TRIA in the Pays de la Loire.