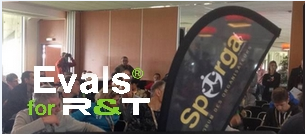 SpOrga : Forum of races organizers
For this second occasion, Sylvain Redondie came to present his solution ready for use to Run&trail
On Saturday 19th, the second occasion of the races organizers forum

SpOrga

took place.
100 organizers participated to a daytime that were dedicated to them inside the Wallon stadium.
For this event, Sylvain Redondie had the opportunity to present ®Evals for Run&Trail and to come back to this partnership and all his success : Crêtes race, Nice Cannes marathon, UPTMA, 100 miles of Milau, Toulouse's semi-marathon..
Evals for Run&Trail permit to evaluate in real-time the perception of participants. This approach showed the organizer's interest for his participants while giving a modern image of race.
For this organizer, operation's financing could be assure by one of their sponsor who will appear on a digital, modern and innovative media and in this way collect precious information.