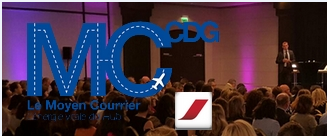 Air France's special flight with Evals
Choose Evals to host an intern meeting !
To make their intern meeting more dynamic, Air France choose to use the Evals solution. Thanks to Evals, Air France's colleagues were invited to participate and transform this event into something more lively !
At different time of the event, colleagues had the opportunity to give their opinion about current projects but also about the future ones. During this half-day, they also had the possibility to ask directly their questions to the speakers. So at the end of the day, it was a great participative atmosphere where ideas were plentiful.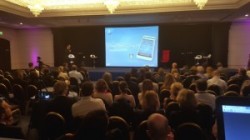 "These regular intern meeting force us to be quite a feat in term of communication such as gather people who don't know each other with different work and universe and make them share their experience by participating. To go from a top-down strategy to a collaborative one is the dream of a communicator but also his nightmare ! Evals solution gave us the possibility to accept the challenge, to create an interactivity and to transform (almost) every participants into an actor because they all could answer to questions in real time, ask some to the speakers and react to the results. Winning bet with benefits because we get people's reactions and suggestion in real-time !" »
Aude Rimbaud, Communication and coordination director at Air France MC-CDG